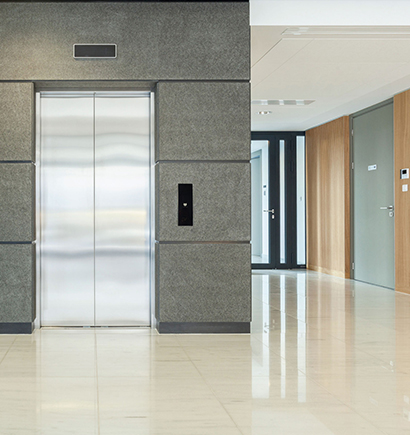 Epitome
A perfect standard solution that unifies form and function.
Epitome passenger elevator for residential and commercial buildings serves all the basic features with quality & safety
Epitome-M comes with single tone powder coated finish on M.S. body.
Epitome-S comes with SS Hairline in 304 Grade.
Solid Performance
The Epitome was designed to meet Indian standards of precision reliability is built in. Enjoy worry-free operation day in and day out.
Space Efficiency
A larger car for standard-sized shafts. Smaller technical components allow roomier car dimensions and more personal space for passengers.
Green Mobility
Engineered to be energy efficient and eco-friendly. A quieter ride means less noise pollution as well.
Salient Features
Anti-Nuisance system
Overload sensing & Pre-torque
Automatic Rescue Device
Serial Communication
upto 8 lifts Group control
Over & Under voltage and Over current Protection
Durable Clicks
The COP LOP has Flush mounting and Surface mounting options, the push buttons used comes with Braille and are tested continuously for more than 2.5 Million presses
Reliable Mechanism
Silent, Vibration-less, Maintenance-less, No oil spillage, fast speed, thats what is future needs, and we do. Epitome model comes with Geared & Gearless PMSM technology. The Gearless PMSM technology is Permanent Magnet Synchronous Motor, which uses magnets instead of traditional gearbox used in geared machines, giving you the pleasent ride.
Technical Specification
Passenger
Load
Entrance
(A)
Car inside width (mm)
(B)
Car inside depth (mm)
(C)
Shaft width
(D)
Shaft depth
(E)
4
272
700
770
1000
1600
1450
6
408
700
1000
1100
1750
1600
8
544
800
1100
1300
1850
1800
10
680
800
1200
1450
2100
2000
13
884
900
1400
1500
2350
2300
16
1088
900
1500
1700
2500
2500
20
1360
1000
1600
1900
2800
2800