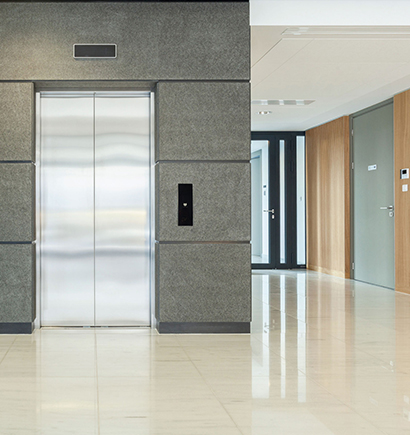 Epitome Passenger Elevator
A perfect standard solution that unifies form and function. India's fast developing economy necessitates the installation of additional elevators in buildings to suit the population's needs. For high-rise buildings, Fox Elevators Company offers Residential Epitome Elevator and Commercial Epitome Elevator for passengers. The Indian Bureau of Standards has certified the company, and it has worked on projects with high-rise heights.
Our Commercial and Residential Passenger lift can make life much easier for people who live in multi-story homes. They can provide a convenient and accessible way to get from one floor to another, without having to use the stairs. In addition, they can also help to reduce the risk of injuries, by preventing falls.
Epitome passenger elevator for residential and commercial buildings serves all the basic features with quality & safety
Epitome-M Comes with Single Tone Powder Coated Finish on M.S. Body.
Epitome-S Comes with stainless steel hairline In 304 Grade.
SOLID PERFORMANCE
The Residential Epitome Elevator is designed to meet Indian standards of precision reliability. Enjoy worry-free operation day in and day out.
SPACE EFFICIENCY
The Commercial Epitome Elevator has a larger car for standard-sized shafts. smaller technical components allow roomier car dimensions and more personal space for passengers.
GREEN MOBILITY
Fox residential epitome elevator is engineered to be energy efficient and eco-friendly. A quieter ride means less noise pollution as well.
SALIENT FEATURES
Anti-Nuisance System
Overload Sensing & Pre-Torque
Automatic Rescue Device
Serial Communication
Up to 8 Lifts Group Control
Over & Under Voltage and Over Current Protection
ss
DURABLE CLICKS
The cop lop has flush mounting and surface mounting options, the push buttons used comes with braille and are tested continuously for more than 2.5 million presses
RELIABLE MECHANISM
Silent, Vibration-Less, Maintenance-Less, No Oil Spillage, Fast Speed, that's what future needs, And We Do. Epitome Passenger Elevator Model Comes with Geared & Gearless PMSM Technology.
The Gearless PMSM Technology has a permanent magnet synchronous motor, which uses magnets instead of the traditional gearbox used in geared machines, giving passengers a pleasant ride.
Our Residential and Commercial Passenger Elevators are a great addition to any building. They provide a safe and easy way to get around, and can be a great convenience for those who have difficulty climbing stairs. They can also be a great way to move between floors if there is an emergency, or if you need to carrying something heavy.