Maintenance Services
Our elevator service and maintenance contracts are flexible in features & options, and to any brand and model. We offer you different contract types from all-in-one to individually optimized to meet your specific building requirements, traffic patterns, equipment condition, and more.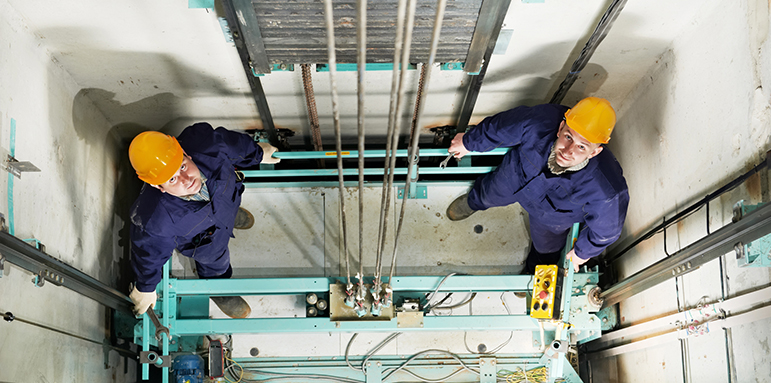 Service contracts
Our Pre-Composed Service Features Build The Basis For Your Individual Or All-In-One Service Contract. All Contracts Can Be Extended With Service Options And Are Available To Any Brand And Model. Our elevator maintenance services Contracts Have Been Carefully Defined Based On Our Experience With More Than 700,000 Service Hours Per Year.
Common Features of Elevator service and Maintenance
Technical support
Hotline support and training of on-site equipment responsible.
Health check
Lift status checks incl. reports and notification in case irregularities are detected.
Repairs
From small repairs to ensure availability to large repairs for a full coverage of all maintenance, call-back or repair works.

Maintanance visit
Regular on-site inspections incl. basic maintenance work.
Call-back interventions
Immediate response in case of issues incl. release of entrapped passengers. Mo.–Fr. 7am–6pm or 24/7 with the "Flex" option.
Options to extend the service*
Direct
Our permanent monitoring and response service allows for tracking and analyzing equipment – and performing condition checks.
Flex
Our option for flexible maintenance and repair work appointments. Plus the possibility for off working hours services – and 24/7 call-back interventions.
Inform
Our information option keeps you on top of things. Transparency and full control is allotted multiple communication channels and reports are submitted through them.

Alarm
Our in-car alarm service allows passengers to connect with one of our trained service staff. The release of entrapped passengers is ensured.
Connect
Our phone- and data line management for Lift- and alarm services enables continuous line function and alarm system checks.
Exam
Our examinations cover periodic safety checks beyond national norms, and the coordination and support of regulatory bodies.
In order to secure the durability of the elevators and the safety of the traveling passengers with timely elevator service and maintenance is important. We not only provide you with the best maintenance services but also provide the best repair services at your doorstep. As we are one of the reputed elevator manufacturers in Ahmedabad, Gujrat. we always focus on after-sales services, Fox Elevators is the one-stop solution for all types of elevator maintenance services.