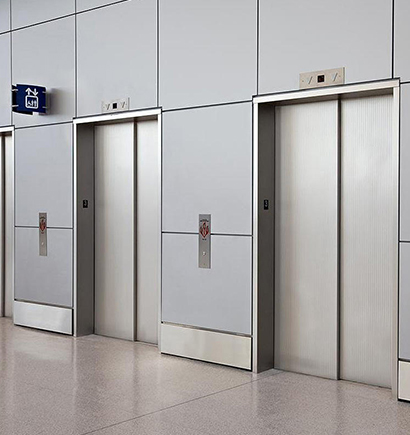 SkyHigh
Urbanization is on the increase with more people moving to cities. This creates a need for taller buildings with even more efficient and innovative mobility solutions which Sky High serves you.
Our High Rise Lift is designed to move large numbers of people quickly and efficiently between the floors of a high-rise building. They typically have a capacity of 8-10 people.
Aerodynamic Car Design
Up to 32 Pole Gearless PMSM Motor
IP 51 Rated Controller
Galvanised Steel Ropes
Up to 2 Hours of Fire Resistance
SOLID PERFORMANCE
The Sky High elevator was designed to meet Indian standards of precision reliability. enjoy worry-free operation day in and day out.
SPACE EFFICIENCY
A larger car for standard-sized shafts. smaller technical components allow roomier car dimensions and more personal space for passengers.
GREEN MOBILITY
engineered to be energy efficient and eco-friendly. A quieter ride means less noise pollution as well. When the lifts are in group control mode, the lifts go to sleep mode as the usage goes down, and become active as soon as the flow is felt high.
CHOICE OF DESIGN
Choose An Interior Style from Our Ready-Made Décor Lines or Create Your Own. Either Way, It's A Perfect Match.
INTELLIGENT TECHNOLOGY
With up to 6 m/s speed, internet-based lift monitoring system, overload with pre-torque system, progressive type safety gear, advanced pre-opening doors, auto floor park, sleep mode, the all-new Sky High Elevator has got it all.
SALIENT FEATURES
Elevator Access Control System
Anti-Nuisance Car Call Protection
Overload Sensing with Pre-Torque
Automatic Rescue Device
Up to 8 Lifts Group Control
Serial Communication
Lift Monitoring System
Advanced Pre-Opening Doors
Overvoltage & Overcurrent Protection
Parking & Sleep Mode Function
Feather Touch COP-LOP
Full Collective Control Operation
There are many benefits to using a Sky-High Elevator in a high-rise building. One of the most important benefits of our High Rise Lift is that it can help to reduce the risk of injuries. This is because people are less likely to trip and fall when they are using an elevator. Additionally, passenger elevators can help to reduce the amount of time that people spend walking up and down stairs. This can be especially beneficial for people who have mobility issues.
Traditional features such as automatic doors and brakes, as well as emergency stop buttons along with modern tech like control by the internet, are part of all of our high rise lift. Fox Sky High Elevator are typically used to transport people between the floors of a building. However, they can also be used to transport goods and materials